FAO Corporate Initiative Spotlight: Interview with FAO's Chief Economist on the World Food Forum 2023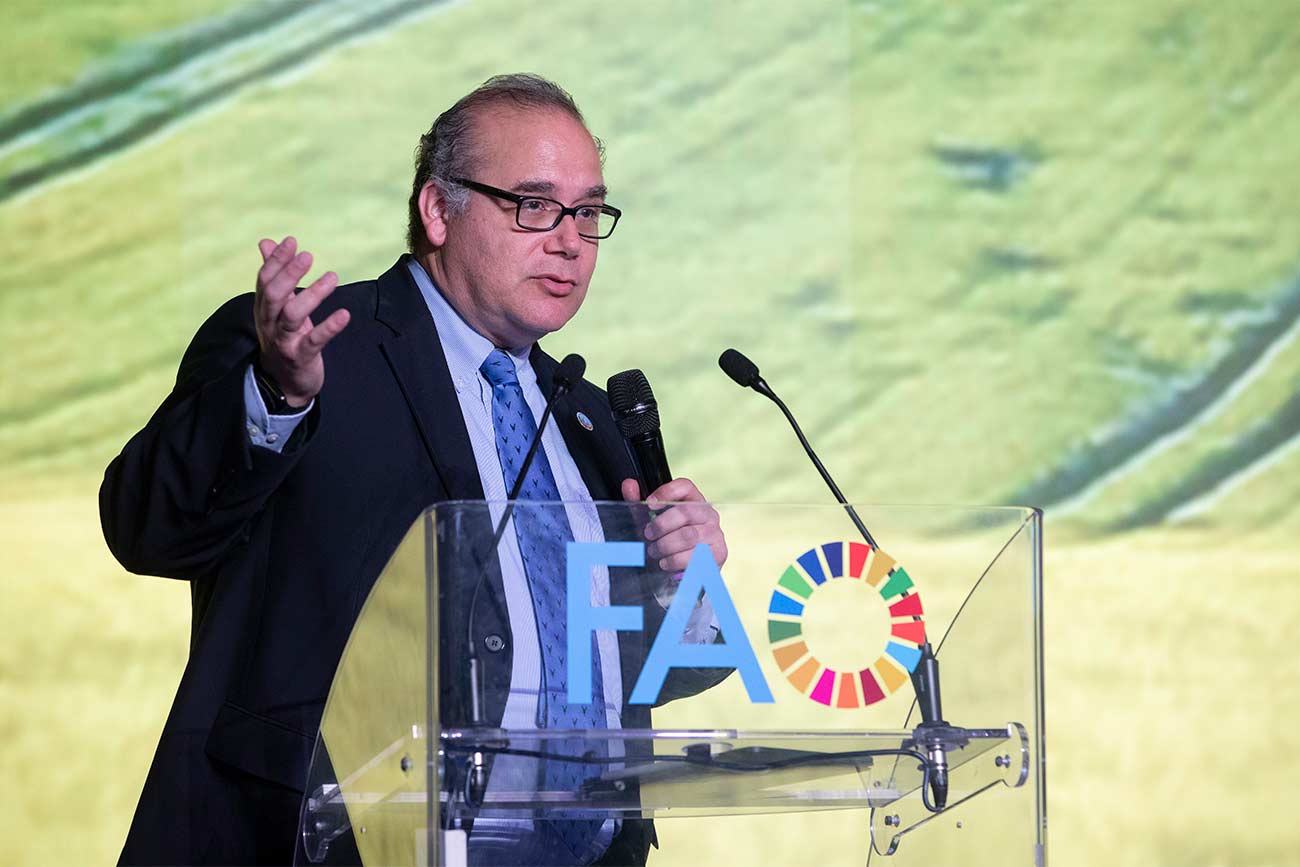 The FAO Corporate Initiative Spotlight is a feature article series of the FAO Liaison Office in Geneva, that delves into the heart of FAO's corporate initiatives. This series explores the inner workings of FAO's commitment to sustainability, innovation and global food security. For this edition, we met with Maximo Torero, FAO Chief Economist, to talk about the World Food Forum that recently took place from 16 – 20 October 2023.
1. Congratulations on the successful World Food Forum flagship week. As we would like to learn more about this year's World Food Forum success, could you please tell us what happened at this year's World Food Forum in a nutshell for our readers?
I appreciate the opportunity to discuss the World Food Forum and its increasing relevance in the transformation of global agrifood systems. The 2023 World Food Forum was indeed a tremendous success, serving as a platform for diverse stakeholders across generations and sectors to come together, discuss and identify solutions to the critical issues facing our agrifood systems today. The week centered around the theme "Agrifood systems transformation accelerates climate action" and represented a multifaceted convergence of initiatives and activities aimed at fostering collaboration, innovation and inclusive dialogue. It includes 4 forums, the youth forum, the science and innovation forum, the investment forum, and the youth indigenous forum. One of the most important aspects was the dynamic participation of youth, reflecting the growing recognition of the pivotal role that young people play in shaping the future of our agrifood systems.
2. How many people joined the World Food Forum this year and how was the atmosphere at FAO Headquarters during the week?
The 2023 World Food Forum witnessed an overwhelming response, with over 20,000 online viewers, highlighting the immense global interest and commitment towards addressing food security challenges. Notably, the event saw a substantial in-person turnout, with approximately 6,000 participants gathering at the FAO headquarters. The diverse array of attendees encompassed a broad spectrum of stakeholders, including passionate youth activists, visionary startup founders, esteemed government officials, scientists, influential policymakers, dedicated representatives of civil society, Indigenous Peoples, academia and investors.
The atmosphere at the FAO headquarters was nothing short of electrifying, with an unparalleled sense of collective enthusiasm and determination to catalyze meaningful action towards sustainable and resilient agrifood systems. The energy resonated throughout the week, reflecting the shared dedication of participants to engage in constructive dialogue, build impactful partnerships and drive transformative change in the global agrifood landscape.
3. For this year's Global Youth Forum, we learned that youth groups would consult on a 2024 global action plan with policies to accelerate climate action and improve access to healthy diets. Were there any interesting actions that were identified? And what would be the next steps?
The Global Youth Forum was one of the most inspiring components of this year's event. We witnessed intergenerational dialogue, as well as dynamic and insightful consultations among young individuals, youth representatives, youth organizations and youth constituencies representing different regions of the world. This led to the identification of some key common themes across regional and thematic assemblies, including education, capacity building, multistakeholder and multi-sectoral collaborations, meaningful partnerships with youths from the local to the international level, and inclusion of all stakeholders in the process of agrifood systems transformation - including young people, women, farmers, Indigenous Peoples and marginalized communities. The youth assembly also highlighted the need for an agrifood systems approach in every policy process and the inclusion of climate action as a key component of agrifood systems transformation.
As a follow-up, the WFF Youth Policy Board is working on a '2024 Global Action Plan' based on the outcomes of regional surveys, consultations and the 2023 WFF Youth Assembly, which could be used as a blueprint by youth for advocacy and action in their countries as well as in different policy fora including COP 28.
4. Were there any impressive start-up pitch or research ideas that caught your attention under the WFF Innovation Lab?
Within the WFF Innovation Lab, we encountered several impressive pitches and research ideas that held significant promise for revolutionizing the food landscape at a local and global level. One of the winners of the Startup Innovation Awards was a startup from Africa called Zebra Crop Bank, that is building Africa's post-harvest produce banking platform for farmers to store, manage and monetize their crop. Another promising initiative comes from some of the Youth Food Lab teams – Mama4Planet from Indonesia which aims to raise awareness among mothers and to empower local female communities on food waste reduction and segregation to initiate behavioral change efforts, and also the Food Bank of Bolivia, which is the first and only food bank in Bolivia and is committed to eradicate hunger and food waste in the country. Overall, the commitment to innovation and technology-driven solutions in agriculture across teams and startups was truly remarkable.
5. We have seen a lot of interest from financial institutions and the private sector in the Hand-in-Hand Initiative. Were there any noteworthy accomplishments or matchmaking this year?
The Hand-in-Hand Investment forum stressed the significance of partnerships across the spectrum, not just in discussions but through concrete actions. The Forum, which builds on the FAO Hand-in-Hand Initiative, attracted over 31 countries and two Regional Initiatives presenting investment plans and opportunities. A total of 110 investments, designed to benefit over 149 million beneficiaries, were unveiled, with more than $16 billion in agrifood investment opportunities showcased. In addition, the two regional Initiatives on Sahel and the Dry corridor presented representing a total investment of 2.48 Billion US$ and 311 million USD$ respectively.
6. Since this year's flagship week is over, are there any exciting news or events happening that we could look forward to?
The World Food Forum is an ongoing platform that extends beyond its flagship event. In the coming months, this momentum will only continue to intensify as we bridge the outcomes of the Youth Assembly with COP28 in Dubai. In 2024, we are committed to nurturing and expanding the array of innovations that emerged during the Forum, by forging new partnerships and aligning funding with tangible solutions. We will also further develop the newly launched Youth Skills Hub, aimed at equipping young individuals with the requisite knowledge, skills, and confidence to actively catalyze transformation within our agrifood systems. Additionally, we will broaden our reach at the local level through the establishment of new National Chapters. Overall, we will reach a wider audience, empower more youth, and foster more partnerships, while leveraging youth action, science and innovation, and strategic investments.