Meet Eddie Kago, Mobilizer of Digital Youth for Food Systems Equity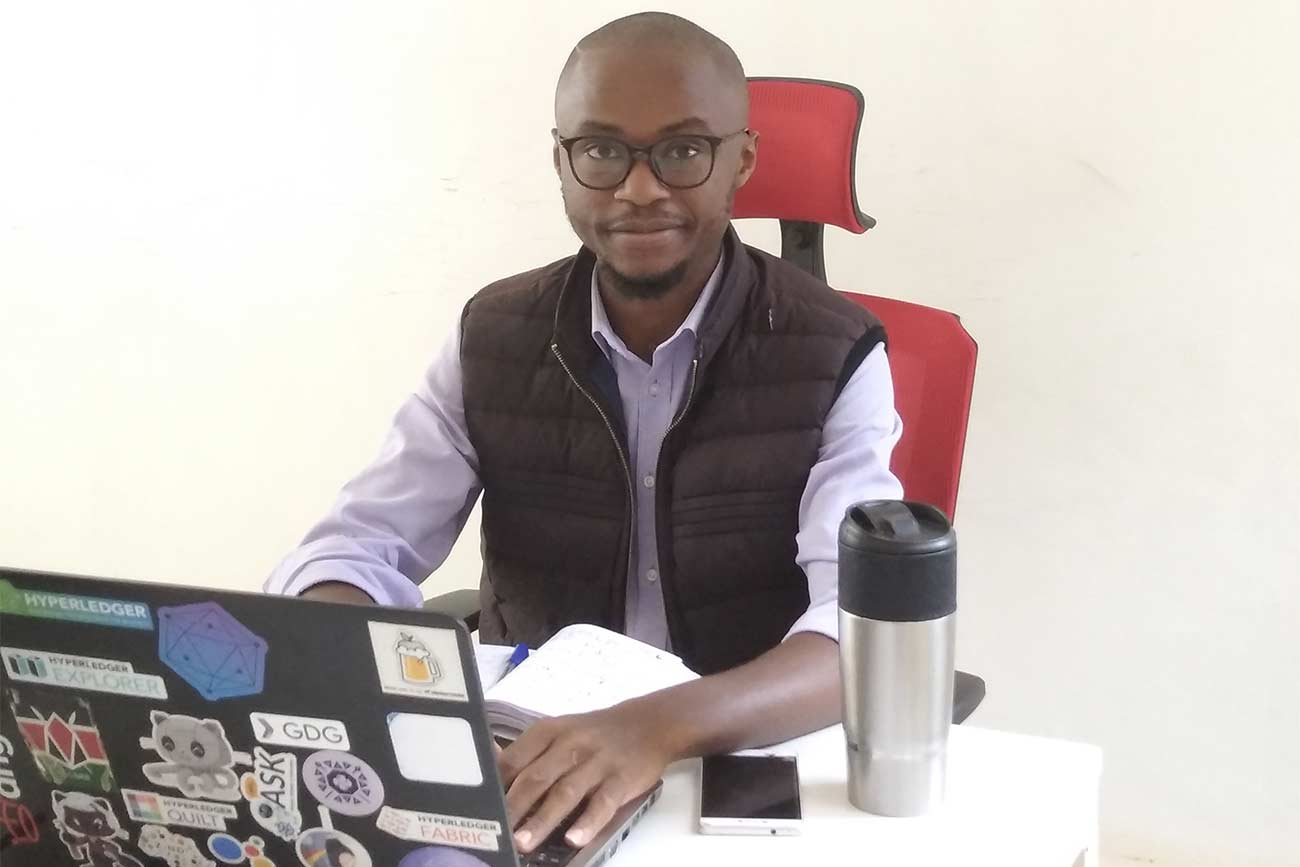 Eddie Kago is from Kenya where he leads a team of software engineers to innovate for the agricultural supply chain with blockchain technology. Through his startup, Vibranium ID, he works with the Global Open Data for Agriculture and Nutrition (GODAN) Programme for Capacity Development in Africa (P4CDA) co-creating an Integrated Food Sustainability Operating System (iFoodSOS). He also collaborates with experts in agriculture to address the needs of small-scale farmers. His team is now about to test the application for the needs of a milk producers' cooperative in Kiambu, Kenya.
Thank you very much for joining us today. I've heard about your work in the technology of food systems development and leading a youth renaissance as a mobilizer of digital youth.
It's a pleasure to join you. I am a Software Engineer based in Nairobi and have been building software professionally for around six years. I am also active in the startup world and run a company called Vibranium ID, which is a digital identity as a service company providing identity checks backed by Blockchain verification.
Working with technologies like Blockchain and interacting with lots of data led to a project called the Integrated Food Sustainability Operating System (iFoodSOS). It's an open-source software designed to bring transparency to the food value chain. I started work on iFoodSOS early 2022 with a team of technologists at the Centre for Agriculture and Nutrition Data and Innovation at the University of Nairobi under the stewardship of Dr. Kiringai Kamau.
There are so many things to ask, but first, were you always a tech person from an early age? When did you start working with digital tech like Blockchain?
I have always marveled at how things work in terms of their underlying principles. As I got exposed to different technologies such as the transistor radio, I sought to interrogate how technology works. As a natural problem solver, I seek to quickly solve problems and technology helps immensely in that. Having been brought up in an entrepreneurial environment, it made sense to study for a computer-related business degree at the university.
In 2016, my brother and I began a startup to sell groceries online. I created a website where customers would order and we delivered to their houses. Our main idea was to provide a platform to purchase fresh and healthy food and have farmers get direct access to the market. In my final year thesis at the university, I developed a USSD application system with a similar concept but geared to linking small-scale farmers and small-holder vegetable vendors. I began researching Blockchain in 2018 when I graduated from my undergraduate studies.
I wanted to take a research based Master's program and made it as a finalist for the Rhodes scholarship for studies at Oxford University. However, I missed the cut to join the program and decided to keep doing my research while exploring the opportunities that are possible around Distributed Systems.
I discovered that Blockchains work as distributed systems with superior security features. I delved into the applied side using a research lens. This transformed into presenting at academic conferences and other collaborations such as a white paper on Kweli, a Blockchain-enabled, Pan-African digital identity under the African Digital Asset Framework. I also explored a use case in the supply chain for food traceability from farms to vendors inspired from my final year project.
Did you introduce your final project in the business then?
We attempted to apply the solution at scale until when we realised that the primary challenge to solve for was logistics and not entirely technology. It was about how to ensure food is delivered from small-scale farmers to the end consumer, but that required some heavy infrastructure investment like delivery trucks.
Fast forward to now, capturing lessons learned, I'm developing iFoodSOS with the team at the University of Nairobi. We are looking at the problem with sharper eyes, and with the big picture perspective of a value chain. iFoodSOS analyzes data on what's happening at each stage of the food systems value chain. From inputs required to grow food, how food is harvested, stored for long term use, processed, distributed to shops, how the same food is consumed and the impact of food on people's nutrition.
If we bring farmers together and source their produce in bulk through cooperatives, you have more varieties and it becomes possible to introduce quality control mechanisms. Aggregators also enable everything to be sold in one order, leading to higher economic gains for the farmers. The project seeks to empower farmers and cooperatives with data, helping them identify how feed, soil and fertilizer use can be optimized for maximum production.
Solving inefficiencies in food systems requires patience and deliberate collaboration. I see it as the analogy of the blind men who touched different parts of an elephant and were told to describe it. They only succeeded by working together to describe a common picture. iFoodSOS applies the same thinking to tackle the elephant that is our food systems It is a bit of an ambitious project.
Could you also tell us about how you started the collaboration with GODAN and a bit more about the development of the iFoodSOS? Is it part of the work of Vibranium ID, the company you started in 2019?
Another thing we realized after pausing the first startup with my brother was that we needed to know more about the industry. I was limited in terms of understanding the end-users of the system who would benefit, in this case, farmers and farmers' cooperatives. If we do it again, I'd work with someone with domain expertise, because otherwise it would require way more time not to mention a lot of financing and experience.
My collaboration with GODAN came out of a meeting with a gentleman at a tech event in Nairobi earlier this year, who works at the Programme for Capacity Development in Africa. We share several interests and he introduced me to Dr. Kiringai Kamau, Deputy CEO of GODAN. From there we started exploring how to use emerging technologies to solve the food crisis we face caused by the war in Ukraine. That's what we're doing with iFoodSOS. We're also collaborating with the University of Nairobi conducting tests in their labs and leveraging their expertise in agriculture.
The biggest lesson that I've learned is that solving grand challenges is not a one-man effort. Tech is really cool but it does not work in isolation.
It's great to see how your inspirations and ideas are enabling bigger impacts. Please tell us about how your projects are changing the way we work with supply chains and food systems.
My approach to digital IT is about how we can we digitalize trust. It is what my startup focuses on and feeds into iFoodSOS. Blockchain technology provides a strong reference point so that you can transact with a trust guarantee backed by the system. This provides transparency and guarantees in the food systems value chain. In our project, it provides a trusted supply chain mechanism where small-scale farmers can also get clear information about optimal agricultural inputs, as well as receive payment for produce and access transaction records.
Our initial use case to test the iFoodSOS system is a farmers' cooperative in Kiambu. We hope to solve a 10,000-litre gap to get their milk processing plant at maximum capacity. We will pilot iFoodSOS with the identified measures through mobile and web applications to track inputs and support prompt payment to farmers. We understand it's a continuous process and the system will get more complex.
And you seem to have a good team of youth techies.
We are a diverse and strong team of six members. The other members are skilled in data science, machine learning, the Internet of things and human-centred design.
When bottlenecks are removed for our youth, we are ready to innovate for difficult problems. It's only that most of the time there are so many bureaucratic and administrative bottlenecks. Working with GODAN, we are able to propose solutions to the problems we have identified, then have them reviewed and implemented very fast.
Blockchain, like other useful technologies is a tool. It should reduce complexity when applied in context.
* This article is part of the WFF African Agrifood Changemakers web story series. The views and opinions expressed in this interview are those of the interviewee and do not necessarily reflect the views or positions of the WFF.