Meet Leutsoa Ezekiel Khobotlo, Farmer and Agro-consultant Practicing Smart Agriculture as Social Enterprise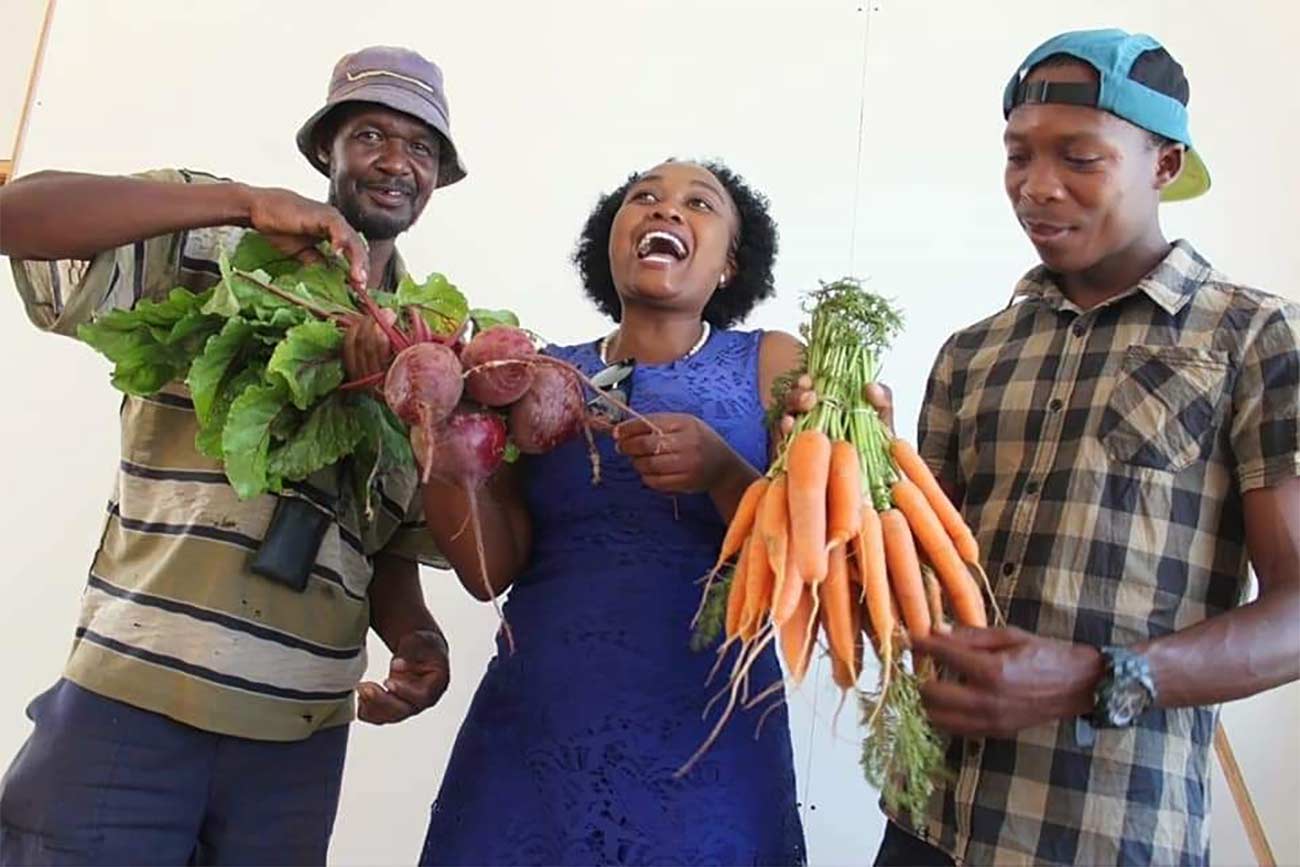 Leutsoa Ezekiel Khobotlo is a young, determined Mosotho man in Lesotho, who is eager to bring change to the country and among the people, especially when it comes to agriculture. He started farming on a small plot of land to support his family and grew his activities into a social enterprise big enough to supply fresh and nutritious vegetables to the local supermarket and hospital. He also founded an agricultural consultancy, GreenLife Organics, and currently works as a horticulture project manager at the nonprofit Action Lesotho.
Thank you for taking the time to speak with us. We would like to know what you have been doing and also where you are connecting from.
Thank you, I am from Lesotho, which is a kingdom surrounded by South Africa, and I am in Maputsoe, which is a town located in Leribe, one of the ten districts in Lesotho. Maputsoe is a small town but it is growing, with the second largest population in the country as we share borders with South Africa.
I grew up in an average family with three children, me being the first one. As hunger struck, I remember my widowed mother supplemented her factory salary by producing some vegetables. In October 2014 after graduating from high school, I ventured into farming by investing in the rent of a 15 x 30 meters plot, utilizing my 300 maloti (Lesotho's currency). I had to use whatever resources I had. I told myself, starting is better than not starting at all. I had to opt for farming for survival and for generating income.
Clearing the jungle and planting vegetables, it turned out that the capital of 300 maloti generated a net profit of 2,500 maloti in four months after the completion of harvesting green beans, tomatoes and sweet peppers.
How did you lean to grow well?
At the high school level, I was not studying any subjects related to agriculture, but because I was in need, I had to do many agricultural activities, such as taking care of cattle and chopping wood in return for school fees. It was for those families who could not afford it that the school negotiated for such an arrangement.
In December 2014, I got an opportunity to apply for the call for proposals for greenhouse funding announced by the government in collaboration with the United Nations Population Fund (UNFPA). It aimed for sustainable agriculture to empower young people in the district. Because this was something that I had already in me, I managed to pitch to the judges by telling them what I was passionate about and showing the clear records of cash flow of my work in the garden that I was keeping.
When they came to see my garden, they were impressed by my healthy vegetables. I even gave them some dried tomatoes which surprised them. We have two seasons, winter and summer. I explained that for me to be unique from my competitors I dried them so that when winter came and supply is low, I would have a unique product whose value would shoot up because I conserved it, processed it. Not only the selling price but also the nutrition would be higher than when it was fresh. I am a social entrepreneur. I do generate income, but at the same time I also help because my resources promote the nutritional status of my community. That was how I differentiated myself from my competitors and that was how my proposal won and I was able to use the greenhouse.
What was your experience once you started using the greenhouse?
I officially started to use the greenhouse in 2015, which was also the year when El Niño hit. It was very hot. It affected us so much that not only it affected our crops but also many people fled the country and migrated to South Africa in search of jobs. Some died because of HIV/AIDS. Children became orphans.
I did not use chemical fertilizer or pesticide, because the expense was too high. I needed to come up with something cost-effective so that I could make my agriculture possible to show to people who are not willing to start with where they are and with what we have. That's why I applied sawdust from timber factory waste, which also acted as an air conditioner in the greenhouse. It also conserves moisture, suppresses weeds and becomes manure that can be recycled back into the soil.
That was the way to minimize the cost while maximizing the gain for my family and for the community. My spinach grew to be 70 cm to 1 meter long!
And now you have your own agro-consultancy program teaching people how to grow. How did you start mentoring and coaching others on farming?
I got different invitations to join in international forums after I won the greenhouse funding and was later invited to speak at an international event. The networking opportunities opened doors for me.
I ended up being in the Chinese Academy of Agricultural Sciences in Beijing for a month where I did my certification in Agrotech. After completion, I thought I should share the knowledge I'd gained with the community and I told myself that I am going to do it, exercise what I have learnt through mentorship programs. This was also another learning curve for me.
The climate is changing. We need to be adaptive as agriculture keeps evolving. I started putting this into real practice with the knowledge I gained. At the same time, we apply traditional experiences and combine both old and modern agricultural practices into gardens.
I encourage young people to come together because I stand for the belief that if we came together, that's when the richness comes in. By not relying on one man as a source for our food as Africans and globally as well, we can remain able to control our food prices and it is going to protect us from the crises we see coming as a result of the war between Russia and Ukraine.
Can you tell us more about your agro-consutancy, GreenLife Organics and your other projects and plans?
I founded GreenLife Organics, an agro-consultancy aiming to transform Africans, especially youths, into independent farmers who are able to produce not only quantity but also quality crops. Now I also work full time as Horticulture Project Manager at Action Lesotho, an Irish humanitarian development organization supporting the Lesotho community.
My five-year plan is to open GreenLIfe Organics as a registered agriculture consultancy institution. I do not have degree, but I am passionate. Opening my institution is going to change mentalities and can both transform and accommodate everyone, whether or not you went to school, or you are illiterate, or you are a graduate. People are waiting to be employed for white collar jobs. But we need to give them the same concept about agriculture, which is that you can start on your own and become your own boss. And for that, we need education, intensive training and support. I also believe that institutionalizing GreenLife Organics will allow for more international collaborations and exchanges of experiences beyond Lesotho.
Thank you very much. I am encouraged by knowing about what you have been doing. You are inspirational in that you show the invaluable skill of "learning how to learn," and how to gain knowledge for real application, which I think are key for anyone to keep adapting themselves in the changing world.
*This article is part of the WFF African Agrifood Changemakers web story series. The views and opinions expressed in this interview are those of the interviewee and do not necessarily reflect the views or positions of the WFF.