Meet Tracy Rashida Alhassan Bawa, Entrepreneur Working in Ghana to Improve Rural Livelihoods in a More Sustainable Way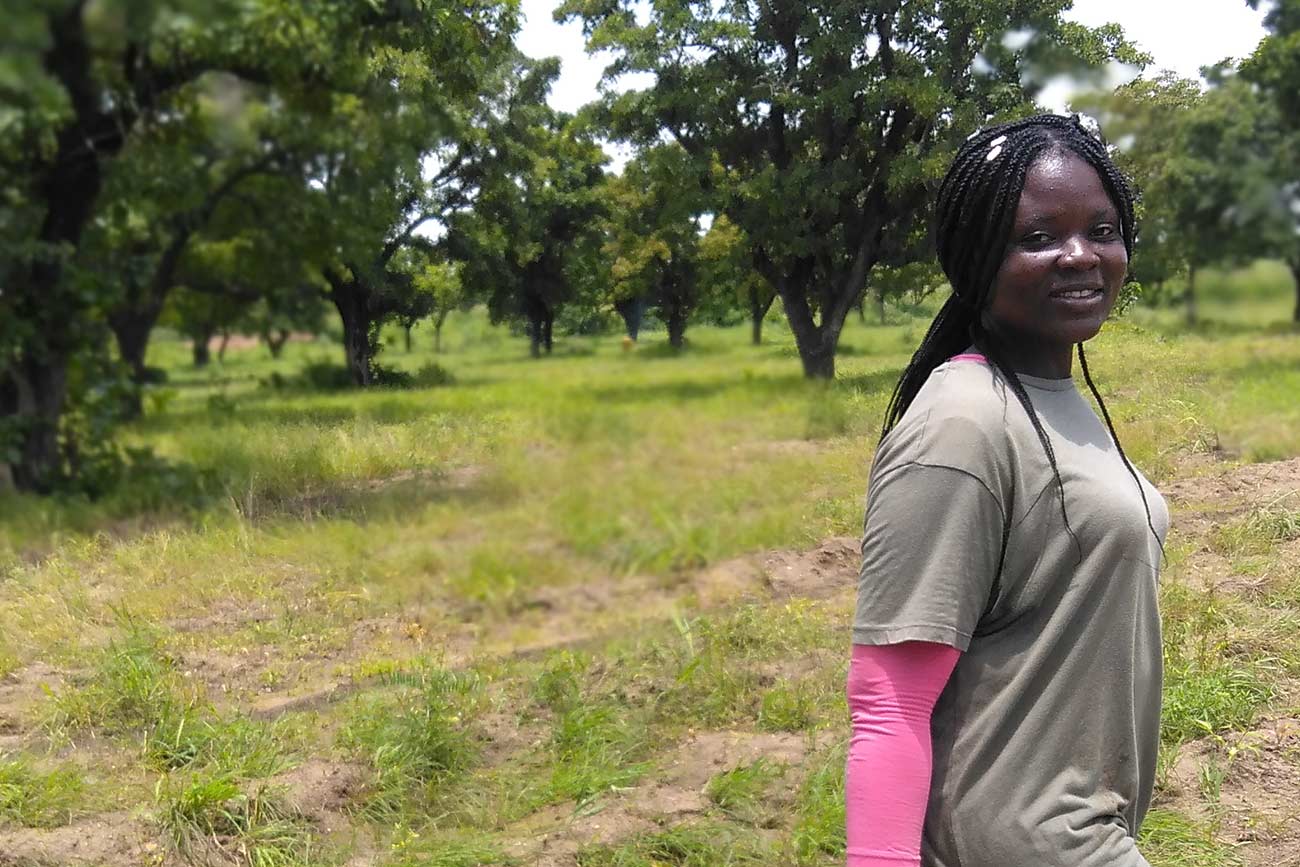 Ms. Tracy Rashida Alhassan Bawa is a co-founder of BOOD Company Limited and works in rural communities in Northern Ghana. Building on the findings of her research assessment of the cash crop supply chain in the country, she endeavors to build a model to provide resources for rural farmers to improve crop productivity and quality, and improve their livelihoods in a more sustainable way.
Thank you for taking time to talk with WFF Africa today. From which part of Ghana are you connecting from? And what can you tell us about your work in Ghana's agricultural sector?
I'm connecting from Tamale, and my company is called BOOD Company Limited, based in Upper West. We're basically into farming, maize, soybeans, and some other cash crops - shea nuts and cashew nuts - working with smallholder farmers in rural communities. We source for quality inputs, which means maize seeds, fertilizers and chemicals, which we give to farmers on credit.
We realized that in Ghana the access to these resources are very difficult and the small farmers do not have enough to buy them initially. On the other hand, we have vast land available for cultivation. So we felt that we want to support and bridge that gap. After providing the inputs, we also regularly monitor their farm work, at least three times a week, to ensure that they are doing the right things on the field and at the end of the day they get the quality yields.
We are currently present in three districts and work with around 400 farmers who benefit from our trainings, supervisions and monitoring. We are usually able to support just a few farmers because we don't have the capacity to support them all.
Another part of business is with women groups. Women in the community process of shea nuts for shea butter. We help them organize into groups and link them with NGOs who support them with the protective clothes and other processing equipment to reduce the burden of their manual work.
Do you conduct your supply chain research in the community you are currently based in? Could you tell us more on that and how it connects to what you are doing now?
Yes, I have done my research in the same location when I was studying at the University of Ghana, so I know about the community well.
The main challenge I found from the research was that supply chain issues create a lack of access for farmers to resources to undertake the production. When it comes to marketing, they also do not get value for what they sell. By being present at every step of the supply chain, this research is to help implement a model that will enhance an efficient supply chain. My specific research focus was on the cashew industry, but I thought the model would also work in other crops like maize, which I am doing now.
It was around 2019 when I was in a national service after my study that I came up with the idea. This business came about with those people I met there who I brought on board to co-found the company.
We want to hear more about how the model works, the cost of inputs, productivity, sales and so on. How do you select farmers and ensure crop productivity and quality?
We do it very effectively. For the selection of farmers, we look for hardworking farmers sometimes based on recommendation. Because I live in a community and had established relationships with the villages even before the business started, I usually know them fairly well. We also do screening after random selection and observation of performance.
Then we train and educate them on good agronomic practices - when to plant, how to test soil PH, record keeping, etc. This allows us to also know whether they are making profits or losses, and to monitor improvement to their livelihoods. We recover produce from them as credit collection.
Importantly, now there are many young people trying to build affordable technologies to enhance agriculture in Ghana. For example, affordable soil test kits. We liaise with those people, educate farmers and facilitate the introduction of such technologies to improve farming practices.
What about marketing and selling?
We buy from the farmers and link them to market so they gain value for the produce they sell. Before supplying to customers, we also clean the produce to ensure the quality.
To collaborate with buyers, we collect information on their needs at the beginning of the farming seasons. This allows us to prioritize the high-demand commodities.
For the pricing and selling, the market prices of the commodity are often determined by the cost of fertilizers and of the seeds, in addition to labor. We take all of that into consideration and make sure the selling price does not fall below the market price.
Could you also tell us about the sourcing of inputs?
We source inputs from trusted associations to ensure the quality. Looking at the economic conditions today, the cost of raw materials and agricultural inputs are very expensive. The condition to supply such inputs are getting less flexible. For example, now you cannot get something if you do not have an initial deposit. Even larger farmers find it difficult to access to fertilizers or quality seeds these days.
Another thing we're exploring is conservation agriculture, using organic fertilizer and feeding animals with the crop residue whose droppings enriches the soil. By depending more on our own fertilizers instead of chemical fertilizers, we spend less.
To get quality produce with quality inputs, we also test performance at our demonstration farms before doing it on a large scale. We then know the value of inputs and the success rate of the seeds we give.
You mentioned the youth increasingly bringing technologies. What are your views on the role of youth in transforming the agricultural sector and the system itself?
Youth can do many things and it's very beneficial to look at what they're doing, as I said earlier. More awareness is very important so people in the agricultural sector can know about their work and make use of it.
Every day young people are getting creative on tools or software applications to enhance agriculture. They can help us gain more new and creative ways to do agriculture. We are very inquisitive to leverage it on our activities and also transfer it to other farmers in one way or the other in the rural communities.
Young people also have more connectivity with each other. I believe this can help accelerate the change. Could you share your message to young people around the world?
We should just try to change status quo. Agriculture is not just for the old people in the villages. We, who are young and are privileged to have some form of education or knowledge, should try to explore the area and see how best use our knowledge to enhance the sector.
There are a lot of opportunities - a lot of things that are untapped in the agricultural space. Lands are available but agriculture is one of the main sectors in Ghana that contributes to GDP, so many more young people should explore that area.
Thank you very much for sharing your work and perspectives. I look forward to seeing you someday soon in Tamale or Accra!
*This article is part of the WFF African Agrifood Changemakers web story series. The views and opinions expressed in this interview are those of the interviewee and do not necessarily reflect the views or positions of the WFF.