UN System Staff College Hosts Innovation Toolkit Webinar to Foster Innovation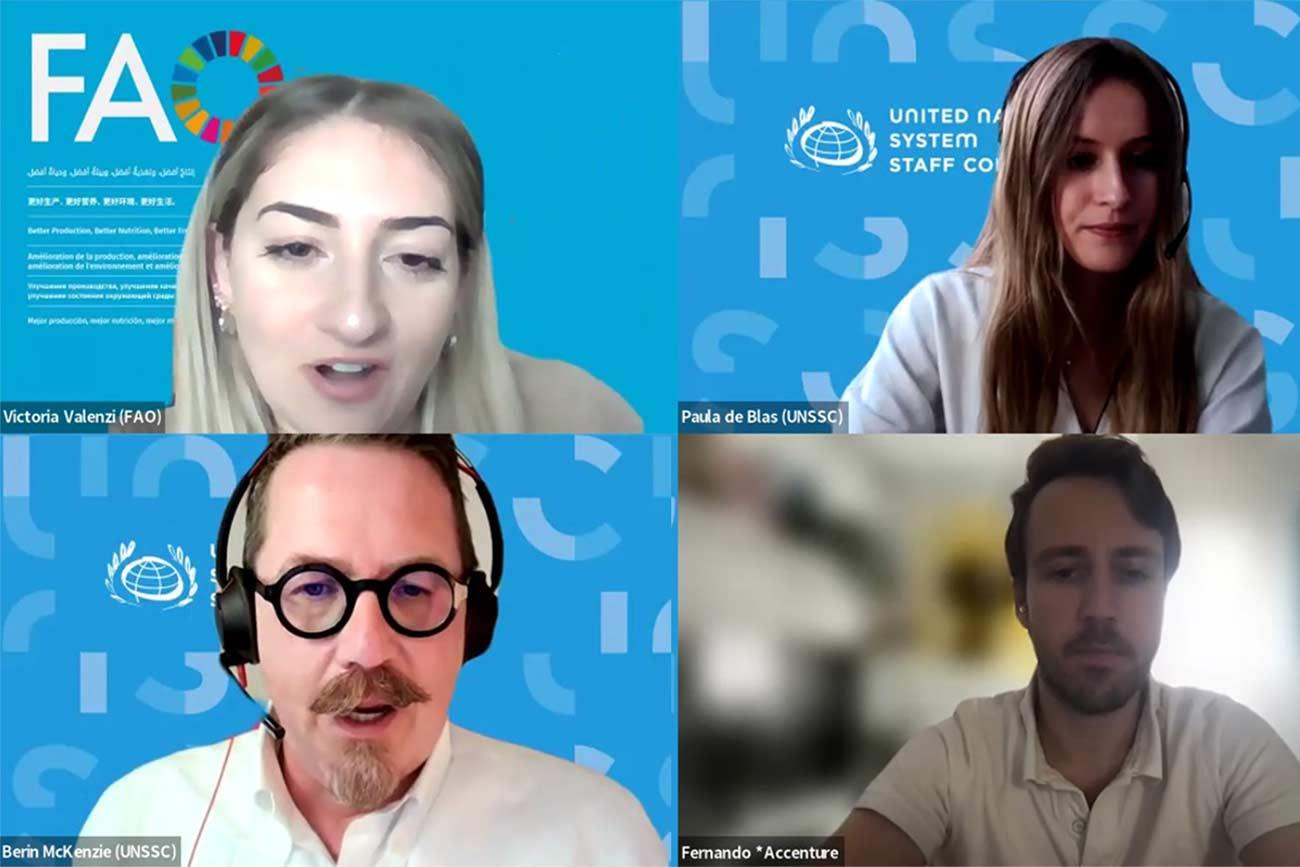 On 28 April, the United Nations System Staff College (UNSSC) in collaboration with the World Food Forum (WFF), the International Fund for Agricultural Development (IFAD), the World Trade Organization (WTO) and Accenture Interactive hosted a webinar to upgrade the knowledge, insight and capacities of a new generation through the utilization of the UN Innovation Toolkit. The event supported the call by UN Secretary-General António Guterres for a systemic shift from "accidental" innovation to innovation "by design". The UN Innovation Toolkit - now hosted by the UNSSC - provides actionable guidance on how to foster, scale up and accelerate innovation across the UN system.
In his opening remarks, Vice-President of IFAD Dominik Ziller stressed the importance of innovation by design and how IFAD is responsible for seeking solutions for the most vulnerable, focusing on scaling up solutions, providing better risk management and facilitating a more efficient use of resources. In short, he contextualized innovation as a means to test and grow solutions to deliver equitable, better and greater impact directly to poor rural people. Ziller also highlighted the importance of failure, which he said should not be seen as a disaster but as an opportunity for learning. He concluded with a call to act together to generate innovations that are human centered, demand driven and impact focused.
The webinar then delved into the functioning of the UN Innovation Toolkit as an instrument to start internal and external conversations about innovation and what it means to a team, unit or organization. The Toolkit is freely available both within the UN system and to the global public, and stresses the concept that innovation is not just technology but also a new business model that requires a cultural shift. To better approach the large scope of innovation, the Toolkit breaks the idea into smaller parts, easily remembered by the acronym S.P.A.C.E.:
Strategy
Partnership
Architecture
Culture
Evaluation
"Innovation is big, scary and critical, but also super exciting and as simple as doing things differently," said Berin McKenzie, Learning Portfolio Manager at UNSSC. "And doing different things is giving yourself that perspective in which you sit back and say 'What am I doing to achieve our mandate in a more efficient and effective manner?'"
The Director of the Innovation, Education and Investments Department of WTO Natalia Bayona underlined the idea that innovation is not about promoting a good or product. Instead, it promotes our knowledge. For that reason, the capacity to create partnerships with the private sector and academia is critical. According to Bayona, innovation is a state of mind. It helps us go "from zero to hero" because it is a way of changing a mindset and bringing tactical results. The importance of partnerships between the UN system and the private sector was also prioritized by Digital Transformation Manager at Accenture Interactive Fernando Gómez Gavarrón, who remarked that we need to "combine the Toolkit's effectiveness with our experience."