World Food Forum art exhibition "Better Food Future" opens eyes to new perspectives on food systems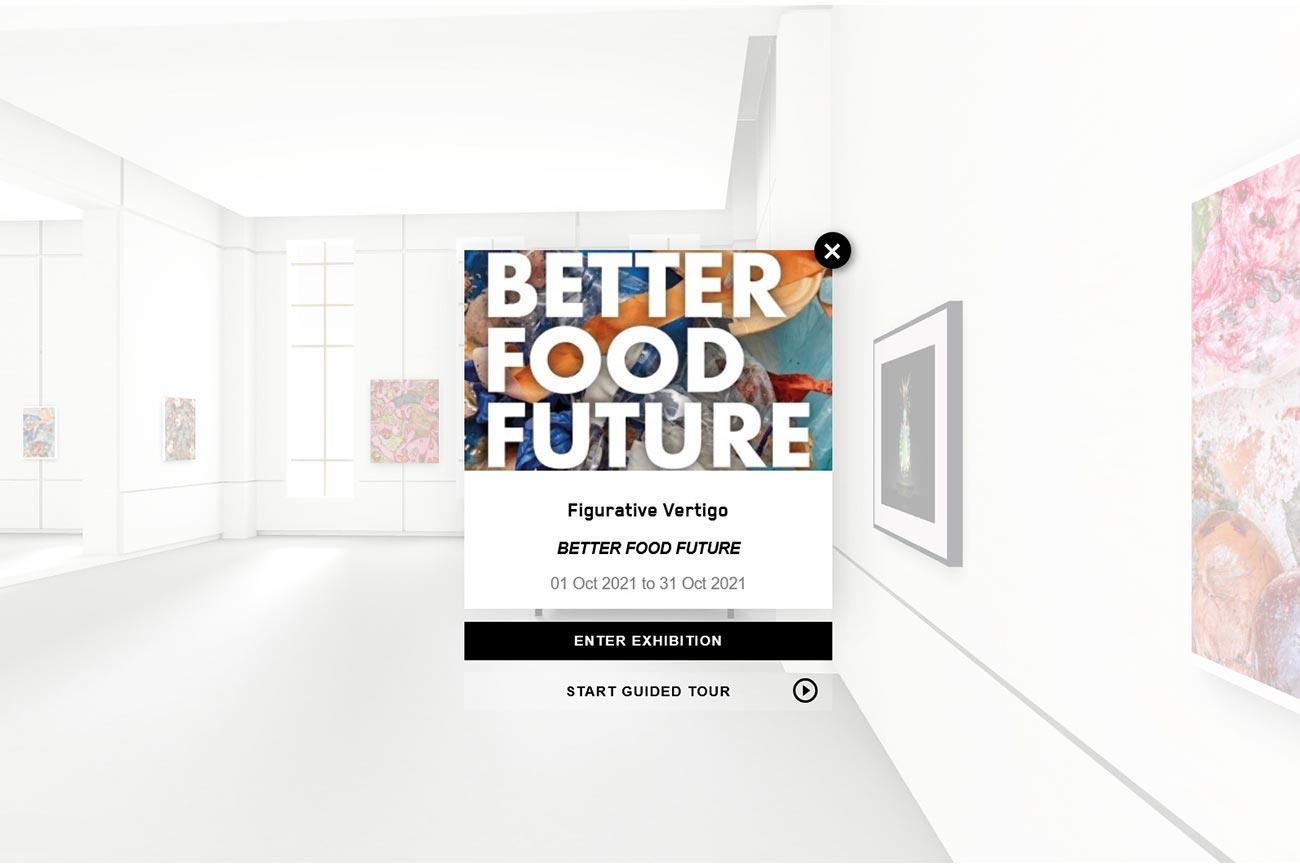 The first thing you see when stepping into the virtual World Food Forum (WFF) exhibition is a work titled "Self Preservation", a digital print by the young Russian artist Natalya Perova. The piece features a passport-style photo conserved inside the traditional Russian dish of cold meat and gelatin, kholodets, and brings into play interesting overlaps and questions around the preservation of cultural heritage, identity, food and health. This piece is an apt starting point for a fascinating show featuring the work of 24 young global artists that pushes the boundaries of our thinking around food and food systems.
The virtual group exhibition Better Food Future, was curated by Artur Semenov from the online gallery Figurative Vertigo.
The exhibition poster features an impressive artwork by London-based female art collective Aennor. Titled "0,22 kg per Person per Day," it refers to the issue of human-made waste and plastic pollution, and to the amount of plastic waste generated by an average person every single day in the United Kingdom.
"I do believe that in our modern times the most innovative and exciting art occurs in link with the important global events that mark the changes in our lives," said Semenov, at the exhibit's opening during the WFF flagship event in October. "The artists in this show are sharing their view on the problems with our food systems and I am hoping it will spark global dialogues and actions among young people towards more sustainable food production, healthy nutrition and respect for our environment."
Other highlights from Better Food Future include multimedia works that investigate feminism and ancient recipes, plastic pollution in remote areas of the world, and various perspectives on food waste and loss, among many other food-systems issues. For example, Gal Sherizly's "Modern Spells" is an edible installation of fungal recipes that "aims to reclaim the kitchen and witchcraft to inform modalities of resistance". Meanwhile, Klaus Pichler's "Pineapple" strikingly captures green mould on a pineapple as a means of investigating food loss, and the carbon footprint of food supply chains.
Or consider the sound installation work "Aural Oral" by Grace Denis which promotes the work of small-scale farms and presents a meal "as a sonic reflection on processes of cultivation, fabrication, and assembly." It features an immersive soundtrack recorded during the artist's residency at Domaine Sauvage - an organic farm in Morocco.
Yet another striking work is "Earthskin" by Sjoerd Martens, which is an eerie botanical video sculpture depicting a rotating Earth made up of the artificial artefacts and indigestible consumer packaging that we use in our daily lives, and which are overtaking our environment.
Viewers can also dive into the thought-provoking piece "Conniveo" by Georgia Tucker, which takes a virtual reality trip to the remote Henderson Island, where an idyllic landscape has been polluted by the world's plastic waste. "In regards to plastic pollution and food waste, I was aware of the situation before, but I didn't have many details," commented Semenov. "I learned a lot from each of the works in the show."
Both informative and inspiring, this show marks a first for the WFF and for Semenov. It is the first in what will hopefully be a long-running series of exhibitions hosted by the World Food Forum in order to raise awareness and galvanize action around food systems transformation. It is also the first time Semenov has selected work based on a specific topic. In the past Semenov has worked primarily with figurative painters, but for this exhibition he approached 80 different artists working across various media and styles, and all under the age of 40. From that initial group of 80, he selected 24 artists from different countries, including Austria, Germany, Hungary, Kyrgyzstan, Mexico, the Netherlands, Russia, Ukraine and the United Kingdom to be featured in the show.
The works were selected for their unique variations and aesthetic interpretations of the themes of better production, better nutrition, better environment, and better life. Then Semenov worked his magic and figured out how to make everything work together in one virtual "room."
Better Food Future will be up through to the end of October 2021, with a possible extension to allow for as many people as possible to explore the incredible works on display. It is accessible 24/7, which enables visitors to browse the exhibition at their own pace, read about the artworks, and reflect on the food-system topics raised by the artists.
About Figurative Vertigo
Figurative Vertigo is an online gallery "born in Moscow, cultivated in London, and matured in Rome". Launched by curator Artur Semenov in December of 2019, projects include the first ever Instagram Augmented Reality art exhibition titled HYPERBOREA. Committed to the concept of curiosity, Figurative Vertigo takes an online-offline approach to showcasing creative expressions at various stages of artistic careers. Departing from a literal use of words, it aims to bring viewers into the realm of figurative speech, where everything is possible. Upcoming Figurative Vertigo exhibitions include a physical show of artworks by Ukrainian artist Nicholas Koshkosh in Rome.