Young researchers and startups honoured and mentored by private sector at World Food Forum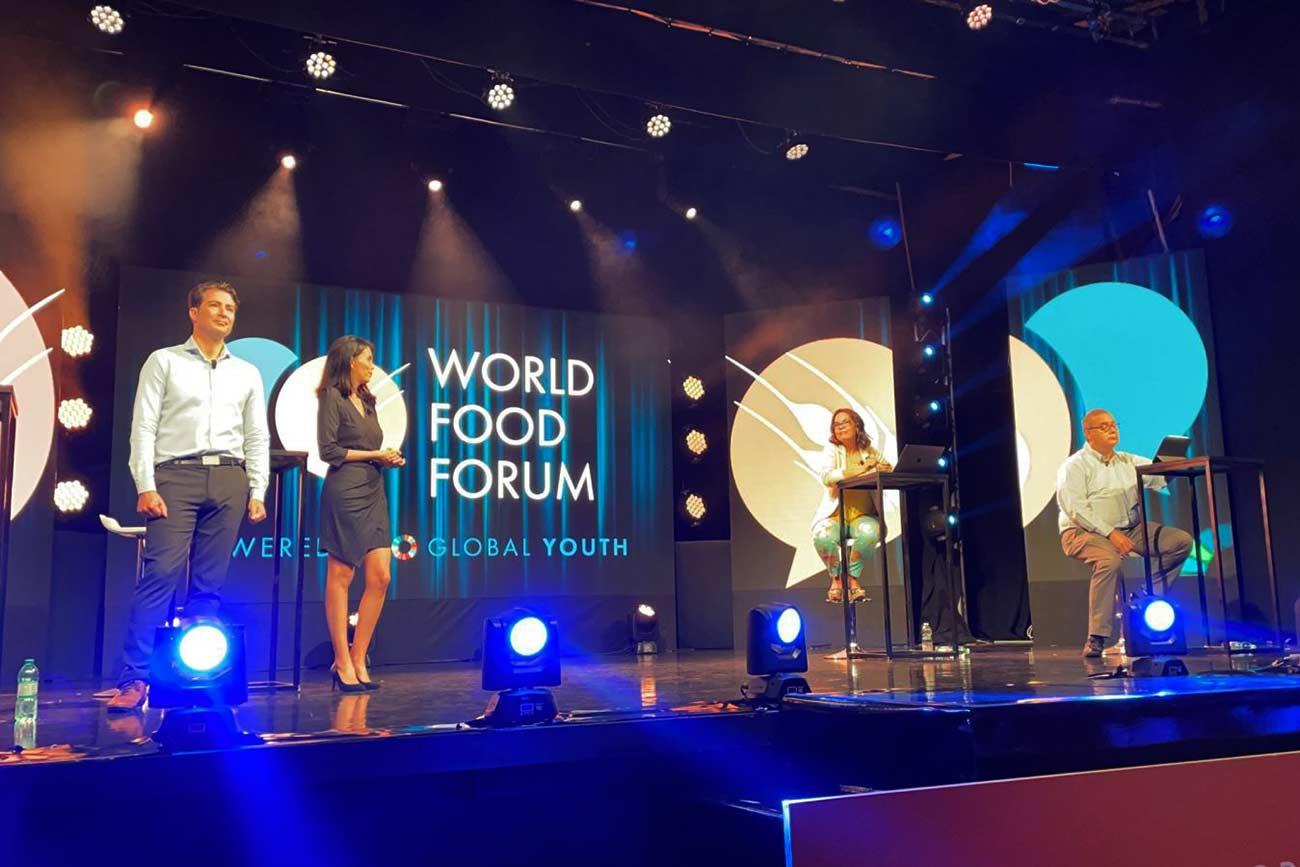 Fostering innovation and entrepreneurship for food systems transformation took centre-stage at the World Food Forum, with awards presented to young researchers and entrepreneurs. Masterclasses hosted by United Nations organizations, the OECD, the Clinton Foundation, the Slow Food Coffee Coalition, Kimbal Musk, Bill Tai, and others also took place.
Transformative Research Challenge Awards
Following a hugely successful inaugural first day, the second day of the 5-day WFF flagship event was entirely devoted to innovation and began with young researchers pitching their projects at the Transformative Research Challenge (TRC) finals. The TRC event was the culmination of an international open call for innovative research ideas across the categories of Better Production, Better Nutrition, Better Environment, and a Better Life.
From an initial applicant pool of 88 teams, 16 teams were chosen to be paired with mentors who helped them produce, refine, and sharpen their research outputs. From these outputs, eight finalists were chosen to pitch their ideas on stage to a panel of judges, including the Chief Economist of the Food and Agriculture Organization of the United Nations (FAO), Máximo Torero, FAO Chief Scientist Ismahane Elouafi, Deputy-Dean of the China Academy for Rural Development at Zhejiang University Dr Longbao Wei and Dr Milka Sokolović, Director-General of the European Public Health Alliance.
"We were looking for projects that were as innovative as possible, and which can bring to life real world solutions," said Torero following the jury's deliberations. The first place TRC award was given to researchers Nafn Amdar and Arif Anwar for their project 'Understanding irrigation behavioural change as a result of adopting water saving technologies - a Case Study from Jordan', with mentorship by Atef Swelam. Second place went to the project 'Eradicate Peste des Petits Ruminants and improve the livelihood of smallholder farmers in developing countries - Evidence from Senegal,' by Pacem Kotchofa under the mentorship of Andrew Mang'ula. In third place was the project 'Prebio-tech: scaling alternative protein with prebiotics,' by Chian-Wen Chan, Daniel Mahadzir, Mohd Fadzelly Abu Bakar, Nur Hafizah Malik, Aqilah Awg Abdul Rahman, with mentorship by Antoine Affokpon.
To bolster the winning research outputs, the three winning teams will receive digital recognition campaigns across WFF platforms. The first-place winners will also have their pitch and story transformed into a video, and their research findings will be published in one of FAO's sectoral publications.
WFF/XTC Innovation Startup Awards
Young entrepreneurs stepped into the spotlight at the WFF Startup Innovation Awards, powered by the Extreme Tech Challenge (XTC). In this competition, 12 finalists were selected from over 3700 entrants in the 2021 XTC, for their standout entrepreneurship and promising potential for a positive impact on global and local agri-food systems.
The startup finalists pitched their ideas and were asked tough questions about feasibility and scalability from a panel of judges, chaired by FAO Deputy Director-General Beth Bechdol and FAO Chief Economist Máximo Torero The panel also included esteemed leaders, innovators and investors including Michiel Bakker (Vice President of Global Workplace Services Programs); Khalid Bomba (FAO Chief Innovation Officer); Iride Ceccacci (Head of Agribusiness Advisory at the European Bank for Reconstruction and Development); Nicole Shanahan (Founder and President of Bia-Echo Foundation); Young Sohn (Chairman of the Board at Harman International, Founding Managing Partner at Walden Catalyst and Co-Founder of XTC); and Bill Tai (angel investor, Partner Emeritus at CRV and Co-Founder of XTC).
The winners in each of the four categories were:
Bondi bio was also chosen as the overall winner of the WFF Startup Innovator of the Year. Upon receiving the top award, James Brown (Chief Technology Officer at Bondi) expressed enthusiasm and appreciation; "We can use biology to right some of the past wrongs in order to feed the planet," he said.
Innovation Masterclasses
Fourteen masterclasses were held over the course of WFF bringing experts and young innovators together for mentorship, discussions and sharing of lessons learned.
Designed to engage, educate, mobilize, and inspire, these masterclasses will be an ongoing educational initiative of the WFF. They included classes led by WFF Partners from the Rome-based Agencies of the United Nations on blockchain technology, UNICEF on food education, UNIDO on youth-led sustainable water management, the Slow Food Coffee Coalition on tracing the coffee value chain, and six masterclass documentary episodes on the circular economy of food in Japan.
In addition, building on the innovation awards day, a masterclass on 'Fostering innovation and entrepreneurship for sustainable development in agri-food systems transformation' featured entrepreneurs and innovation catalysts including Co-Founder and Chairman of Big Green and The Kitchen Restaurant Group, Kimbal Musk; Founder and President of Bia-Echo Foundation Nicole Shanahan - and angel investor Bill Tai. The focus of this masterclass was to share tips on spearheading and scaling-up innovative entrepreneurship with positive social impact. The candid conversation was full of personal stories and insightful Last year's winners of the XTC also shared their success and constructive failure stories and viewers chimed in with astute questions.
All WFF masterclasses and innovation awards ceremonies will be made available to view on the WFF website and on the WFF YouTube channel. Designed to engage, educate, mobilize, and inspire, these masterclasses will be an ongoing educational initiative of the WFF.