Young researchers honored and mentored at World Food Forum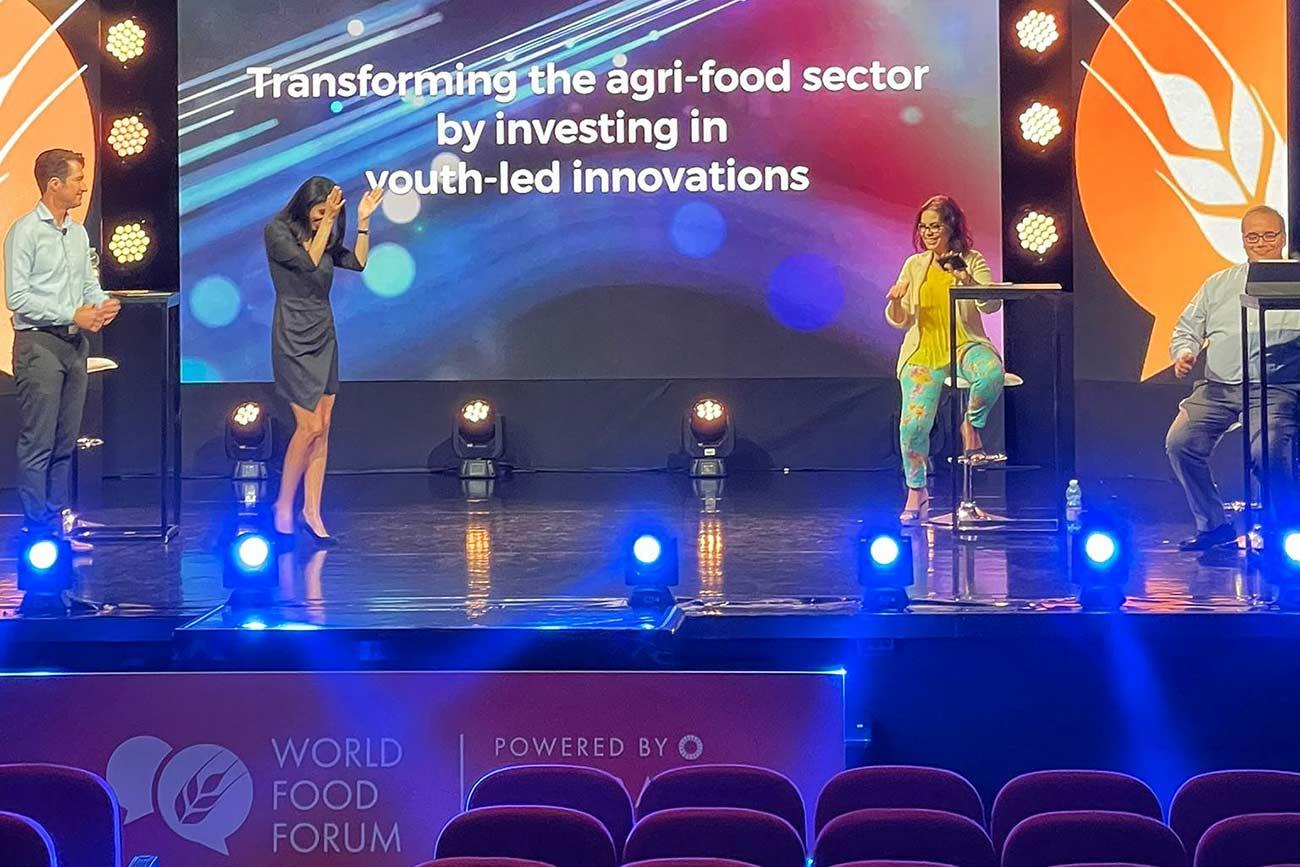 The second day of the 5-day WFF flagship event was entirely devoted to innovation, and began with young researchers pitching their projects at the Transformative Research Challenge (TRC) finals. The TRC event was the culmination of an international open call for innovative research ideas across the categories of Better Production, Better Nutrition, Better Environment and a Better Life.
From an initial applicant pool of 88 teams, 16 teams were chosen to be paired with mentors who helped them produce, refine and sharpen their research outputs. From those research outputs, 8 finalists pitched their ideas on stage to a panel of judges, including the Chief Economist of the Food and Agriculture Organization of the United Nations (FAO), Dr Maximo Torero, FAO Chief Scientist Dr Ismahane Elouafi, Deputy-Dean of the China Academy for Rural Development at Zhejiang University Dr Longbao Wei and Dr Milka Sokolović, Director-General of the European Public Health Alliance.
"We were looking for projects that were as innovative as possible, and that can bring to life real world solutions that can bring agri-food systems transformation," said Maximo Torero after the jury's deliberations. The three winning projects were very closely ranked and were a result of a tough deliberation.
The first place TRC award was given to researchers Nafn Amdar and Arif Anwar for their project "Understanding irrigation behavioral change as a result of adopting water saving technologies - a Case Study from Jordan", with mentorship by Atef Swelam. "The world is going through huge challenges, one of the biggest challenges is water. This team is bringing an innovative solution for a huge challenge the world is facing, both looking at the behavioral part as well as the adoption of technologies" said Maximo Torero while presenting the 1st place TRC winning team.
Second place went to the project "Eradicate Peste des Petits Ruminants and improve the livelihood of smallholder farmers in developing countries - Evidence from Senegal," by Pacem Kotchofa, under the mentorship of Andrew Mang'ula. "We believe the methodology you used is very innovative and could help farmers to reduce costs and the country to keep hold of animal health issues" said Ismahane Elouafi while presenting the 2nd place TRC winning team.
In third place came the project "Prebio-tech: scaling alternative protein with prebiotics", by Chian-Wen Chan, Daniel Mahadzir, Mohd Fadzelly Abu Bakar, Nur Hafizah Malik, Aqilah Awg Abdul Rahman, with mentorship by Antoine Affokpon. "The reason we believe it is a great innovation is because it looks at the bioma of insects, trying to bring more macro-nutrients to insects to increase the nutrition of feed for animals. It is a double win in a very cost-effective solution" said Maximo Torero while presenting the 3rd place TRC winning team.
In order to bolster the winning research outputs, all winning teams have received personalized mentorship with experts in their field of research, as well as speech coaching in an exclusive Toastmasters speaking bootcamp. They will also receive digital recognition campaigns across the WFF platforms. The first place winners will also have their pitch and story transformed into a video, and their research findings will be published in one of FAO's sectoral publications.
All masterclasses and innovation awards ceremonies will be made available to view on the WFF website and on the WFF YouTube channel.