The WFF and the Social Gastronomy Movement observe #HungerActionMonth and share over 71 million meals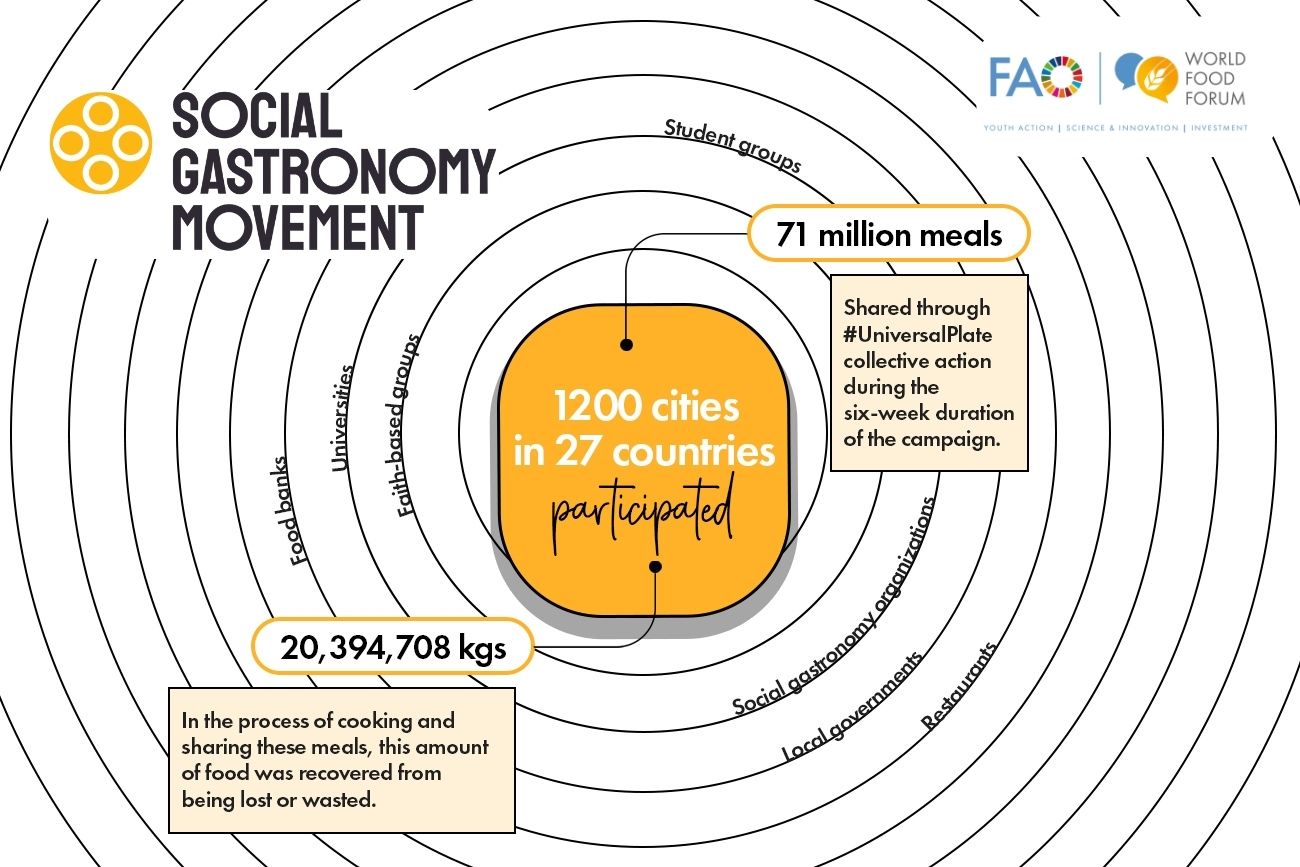 From 1 September to 16 October, the Social Gastronomy Movement, a global movement of food-systems changemakers from chefs to farmers, business to nonprofit leaders, collaborated with the World Food Forum to observe #HungerActionMonth. People from over 70 countries joined the movement to show the world the impact we can have when we act together toward transforming food systems.
In addition to action, this campaign was focused on knowledge sharing and awareness. Six thematic areas – the Right To Food, Food Insecurity and Hunger, Youth and the Future of our Food, Supporting Smallholder Farmers and Fishers, Zero Waste, and Social Gastronomy – culminated initiatives in a worldwide celebration of World Food Day on 16 October.
Last year, the #UniversalPlate challenge saw over 3 million meals shared around the globe, with partners ranging from youth activists to food service professionals, community leaders, educators, the private sector, and individuals who believe in the power of sharing a meal having a lasting impact on someone's life. This year, the Social Gastronomy Movement announced that last year's numbers were not only surpassed, they exponentially exceeded all expectations.
The 2022 #Universalplate saw over 71 million meals shared through collective action over a span of six weeks, throughout Hunger Action Month (September), until World Food Day (October 16). Over 20 million kgs of food were recovered from being lost or wasted in the process of cooking and sharing these meals.
The challenge overtook 1200 cities in 27 countries, with participation from regional food bank networks, Social Gastronomy Organizations, Private Sector partners, universities, local governments, restaurants, faith-based organizations, and student groups.
The Social Gastronomy Movement and the World Food Forum were able to tangibly demonstrate that it is high time to ensure the #RighttoFood and #HealthyDietsHealthyPlanet for all.