WFF Participates in Snack the System Event to Empower Youth for Agrifood Systems Change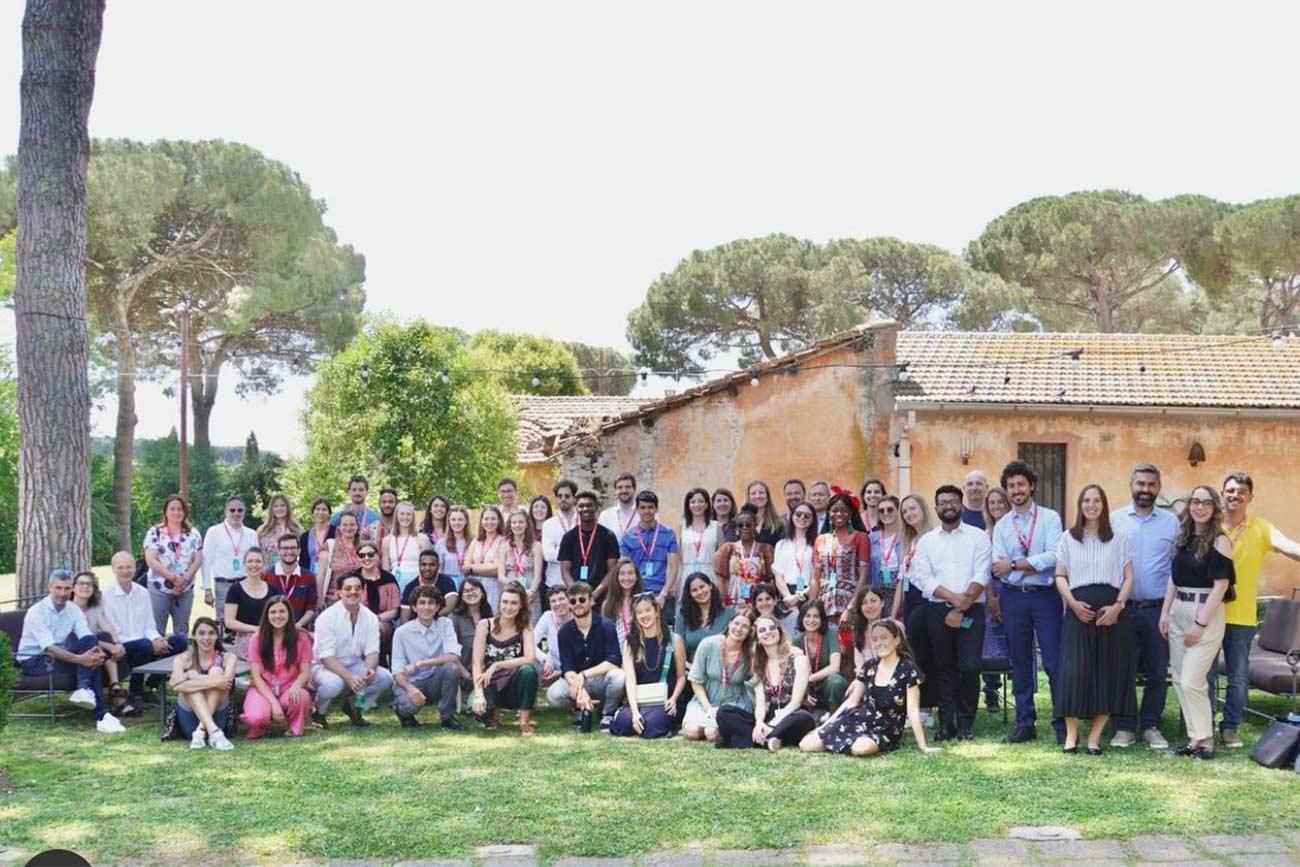 On 22 May, the World Food Forum (WFF) team participated in Snack the System, an event organized by Bites of Transfoodmation and hosted by Casali del Pino, an organic farm and touristic destination located a few kilometers outside of Rome. The event brought together young people from different countries, cultures and backgrounds for an intergenerational debate on how best to inspire and empower youth to transform our agrifood systems. It also featured creative exhibitions, innovative initiatives and delicious healthy food.
Arriving at the event, visitors first explored different projects organized by young people through impact-driven approaches. These projects demonstrated the need for, and relevance of, youth-boosted creativity to change the destiny of our environment and agrifood systems. The diverse and interactive exhibitions allowed people to understand an array of positive actions that can be taken in every stage of our agrifood systems, from production to consumption.
How can we develop practical and efficient strategies to reduce food waste, promote sustainable agriculture and protect our environment? How can young people interact with stakeholders to help emphasize and achieve solutions to our current environmental issues? The young innovators at the event proposed answers to these questions by sharing the ways in which they are challenging current systems and acting for change. From changing their countries' laws to developing new flavors for healthy food, the exhibitors at Snack the System showed how changing our agrifood systems is not only possible, but it is already happening through the empowerment of young people.
The WFF hosted a booth where it introduced its efforts to achieve the sustainable transformation of our agrifood systems through thematic tracks and discussed the important role that young people play in changing the destiny of our planet, from grassroots to the institutional level. The WFF Education track also engaged the children and families present at the event through the Yunga Labs, which educate the youngest generation on relevant food and agriculture issues and empower them to become future changemakers. Educational initiatives such as these can prepare the next world leaders to actively build a better, healthier planet for the generations to come.
One reoccuring theme throughout the day's talks - which were moderated by H.E. Pio Wennubst, Ambassador and Permanent Representative of Switzerland to the United Nations Organizations in Rome – was the urgent need of linking social justice to food consumption, making healthy food accessible to all people, leaving no one behind. This can only be achieved by developing sustainable approaches to food production and democratizing tasty and healthy consumption. Event speakers also stressed the need of making young people's voices heard and to support them in promoting change.
The second part of the event was devoted to institutional engagement. Representatives from states, multilateral organizations, companies and academia joined youth in this vivid atmosphere by exploring the exhibitions, listening to young people and speaking to the audience on a series of two panels. This allowed stakeholders to debate and discuss with young people, reinforcing the importance of not only listening to what the youth have to say, but also supporting their ideas and giving them space to act.
Kazuki Kitoaka, WFF Global coordinator, used his speech to reinforce the need of developing a structural voice for young people in multilateral systems, providing them long-term support by incorporating youth participation in institutional decision-making. Máximo Torero, FAO's Chief Economist, declared that it is time to reinvent our multilateral systems by bringing youth in and giving them the tools for discussion.
Throughout the entire day, young people showed the system that change is more necessary than ever, and integrating young people into change-making is urgent. The WFF is here to amplify these messages and empower every young person who is motivated to change our agrifood systems. Together we can combine efforts and promote a healthy planet for all. In the words of H.E. Pio Wennubst, "You are here, you are young, you want transformation, and you are doing it." The time to act is now!