Sustainable Gastronomy Day 2022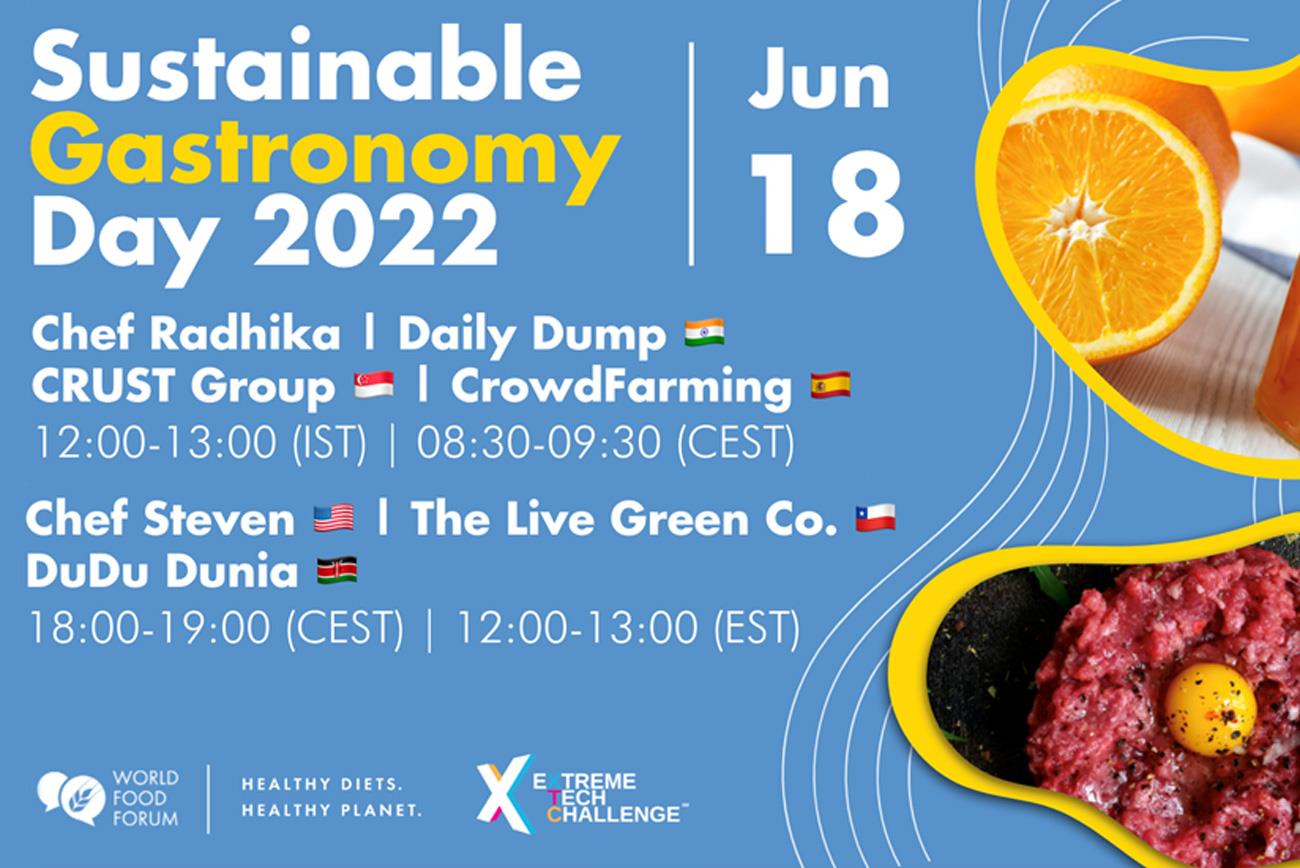 Celebrate Sustainable Gastronomy Day with chefs and startups fighting to reduce food waste
Hosted by
Background
The World Food Forum Culture Track together with Extreme Tech Challenge present the 2022 Sustainable Gastronomy Day Celebration! Over two events, we will bring together chefs and innovative startups with sustainability at heart for a cooking class and fascinating conversation on how they're both fighting to decrease food waste in their industries.
Format and Agenda
Event 1: 18 June - 12:00-13:00 (IST) | 08:30-09:30 (CEST)

Moderated by
Nancy Yuan,
Program Fellow at Extreme Tech Challenge



Cook along with Chef Radhika, Chef & Owner of Fig & Maple and Ivy & Bean as she prepares her Zero Waste Orange Marmalade. Shop for the ingredients in the recipe and have them ready to make it at home if you want! Joining her is Cristina Domecq, Head of Sustainability at CrowdFarming to go behind the scenes of orange farming, as well as Poonam Bir Kasturi, Founder & CEO of Daily Dump to provide insights on composting and Travin Singh, Founder & CEO of CRUST Group to walk us through how wasted bread can be turned into beer! How about that for a transformation?



Would you like to cook with us? Here's the recipe!

Event 2: 18 June - 12:00-13:00 (EST) | 18:00-19:00 (CEST)
Moderated by
Lindsey Hook,
Head of Culture at the World Food Forum
Cook with Chef Steven Goff, Owner and Executive Chef at beloved Tastee Diner in Asheville, NC as he prepares beef heart tartar – don't worry, you can use any part of the cow for this. where he will teach you how to use every part of the animal. Joining the conversation will be Priyanka (Pri) Srinivas, Founder of The Live Green Co. who will tell us how her startup makes sustainable food products based off the healthy habits of our ancestors. We will then have Maite Guardiola, Co-Founder of Dudu Dunia, help us navigate the beautiful but complicated world of composting.

Would you like to cook with us? Here's the recipe!